Mechanical Aptitude Test -Maps
Maps in aptitude tests are often ignored when people study for a mechanical aptitude test yet they are still a very important component. People tend to brush it off because they assume they have no issue reading a map.
An important note before trying the following examples is when you are looking at the picture you should always assume the top view to determine left or right.
Note the arrow is your current location & the arrows at the bottom left represent North, South, East, West. The top arrow being North.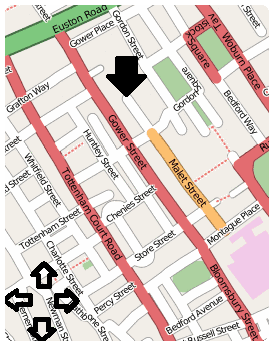 Instructions:

Go south on Malet Street and turn left at the first intersection
At the first intersection turn left
Continue down that road until you reach the third intersection and turn left
At the second intersection turn left
At the first intersection turn left
The first intersection you reach turn right
Continue down to the forth intersection
Where are you?
A) Gower Street & Grafton Way
B)Gower Street & Montague Place
C)Gower Street & Cheniese Street
D) Totten Ham Court Rd & Totten Ham Street
Answer: C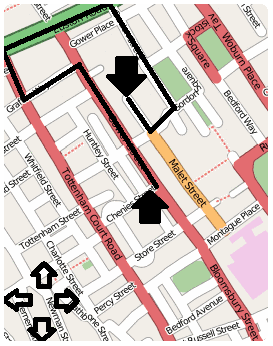 It's important to note that during your mechanical aptitude test, they might decide to use North South East West instead of left and right. So it's a good idea to be comfortable with both scenarios.
Find more map examples here.
[ CONTINUE TO PULLEYS ]